In which Fields are Tecnodue butt welders used?
Welding for Water Transport Pipes
TecnoDue produces butt welders for polyethylene pipes and in general also for the construction of water pipelines for aqueducts, for the transport of drinking and non-drinking water, for waste water discharge systems.
The butt welders of the series pt and PL they can be used for the construction of fire-fighting systems and irrigation systems.
They are also widely used in the field ofhydroelectric energy.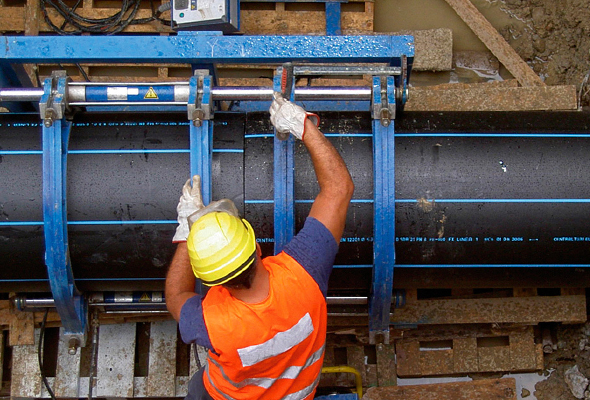 Butt welding of large pipes
We accomplished butt welders for pipes over diameter 3000mm which are suitable for different types of pipelines from low to high pressure, especially for welding of polyethylene and polypropylene pipes used for plants of various kinds, such as the transport of water for the cooling of refineries.
The particular care in the construction, the sturdiness and the use of light materials make our welding machines very appreciated in the mining sector.
Our workshop machines are ideal for making fittings how bends, tees and wyes used in the same sectors through the butt welding. The results are flawless for all diameters of piping, thanks also to the computerized control and the cycle of automatic welding.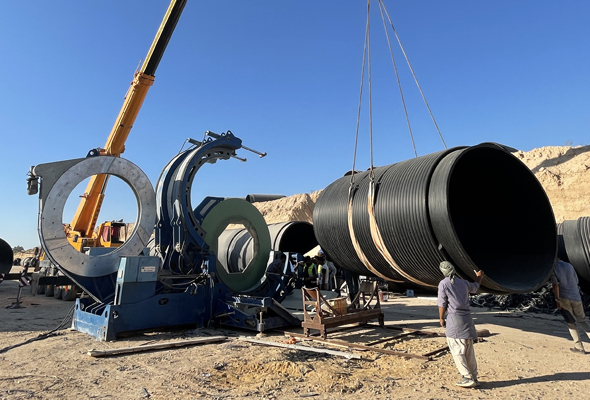 Public and private bodies
During the years Tecnodue saw their own welding machines engaged in welding and installation of gas, water and sewerage networks, small and large irrigation systems, systems of drinking water distribution and drainage for domestic use, construction of prefabs and many other applications.
Thanks to our long experience and our flexibility we are able to meet the needs of a large and varied clientele, which includes businesses and individuals as well as municipalities and public bodies.
Large public infrastructures, companies specializing in the construction of systems, road companies, plumbers, fittings suppliers: these represent just a few examples of our "range" of customers.
Welding for gas pipelines
Our welders are also used for butt welding for gas pipelines, methane pipelines etc.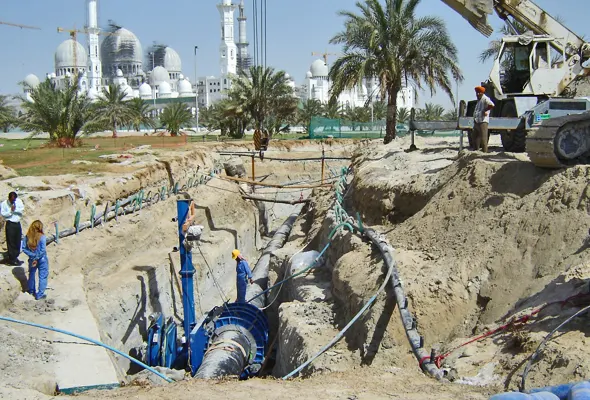 The welders for butt welding Tecnodue are perfect for realizing gas distribution systems, with the possibility of certifying the welds or obtaining an automatic welding cycle.
The various accessories of PT series they help in the various stages of creating a pipeline to guarantee you the best tools available on the market.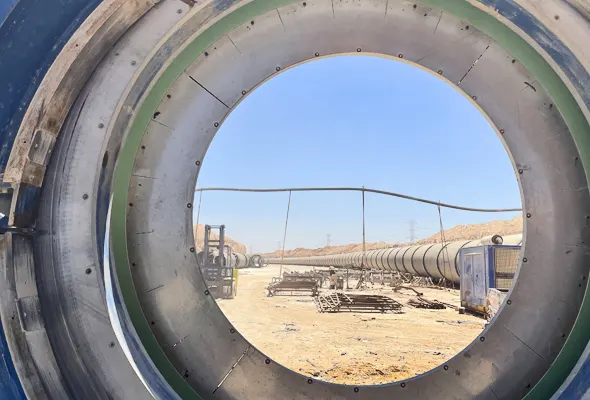 You are an expert and demanding welder and thanks to your professionalism and high-performance work tools like ours you can create a pipeline of perfect, risk-free and safe gas.
We of Tecnodue we are happy to offer you free consultation, guide to choosing the product that best suits your needs, after sales assistance to always have one efficient and ready to use welding machine.
The polypropylene it is used whenever there is the presence of acids or other substances which can corrode, deteriorate or transform other materials (metals or other).
Polypropylene has several properties it stands out for high chemical resistance, making it ideal forchemical industry and for galvanic plants. Another of its properties is that it is an easily weldable material, either butt welding with sheet welding machines that through portable extruders.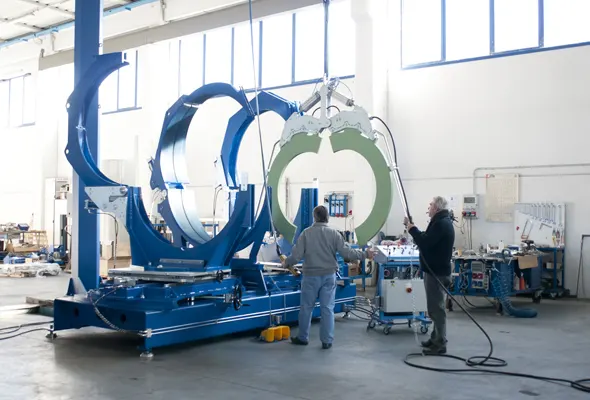 Chemical and Pharmaceutical Industry
In this sector the polypropylene it is mainly used for the pipeline production for the transmission of water and chemically aggressive fluids. Also, the PP it is also used to produce laboratory tanks, filters, tanks, containers.
Tecnodue produces a complete line of sheet welders able to weld PP plates in horizontal, at 90° and produce pipes obtained from rolled sheet with a special winder and then welded.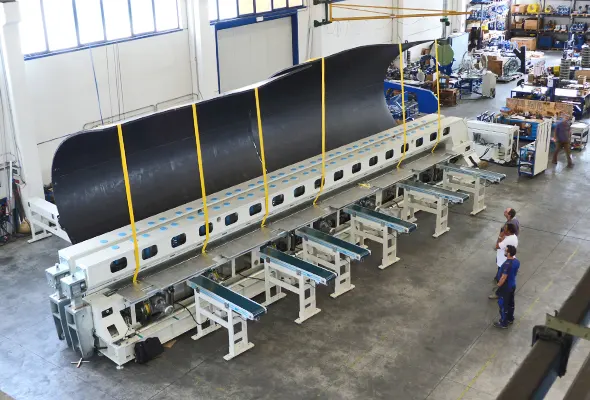 The polypropylene is used for the making piping, tubs, containers for the galvanic treatment of metals in general.
The sheet welders produced by Tecnodue they can weld polypropylene sheets up to 50 mm thick.
The making of round pipes say also large, tumblers for the treatment of leathers etc. is made possible thanks to the sheet winder devices included in our offer of sheet welders.
The high malleability of plastic materials allow the creation of ventilation systems and custom air treatment systems.
Suction and purification systems air are increasingly being made in butt-welded plastic material and portable extruders.
Numerous companies specializing in the making of ad hoc ventilation systems and air filtering and then of purification of the air from dust, fumes, fumes and volatile substances, as well as systems dedicated to biomass and waste treatment, they turn to Tecnodue to obtain a solution that perfectly matches their production needs..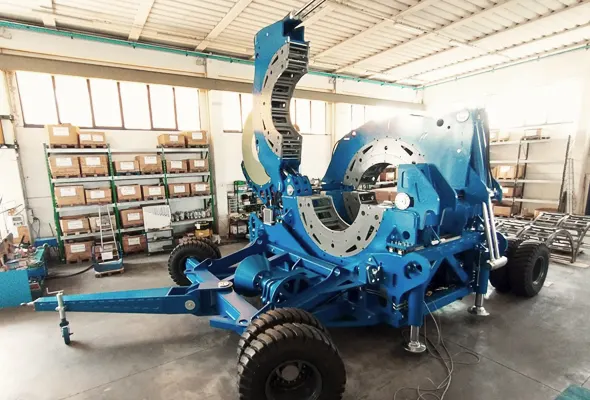 The correct design of ventilation, air conditioning and refrigeration systems is aimed at obtaining the maximum comfort and environmental health.
The good yield of these systems also passes through the welding, made possible by our products available in different sizes and customizable to customer needs.
Air and ventilation systems, public and private buildings, public and private infrastructures, refrigeration and air conditioning systems, domestic or public, aeration, air filtering and purification, fume and dust abatement.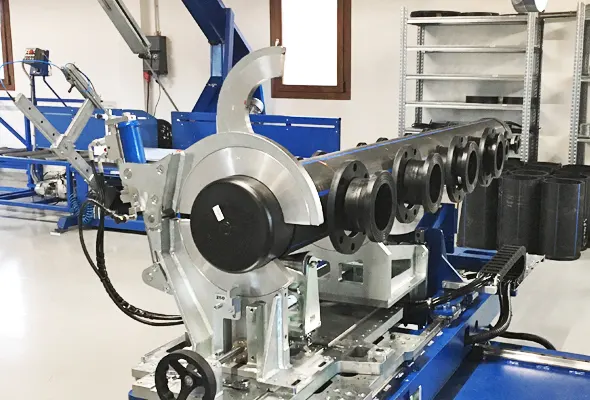 Food, fish farming, swimming pools
The thermoplastic materials are universal, durable, reliable and highly malleable.
For this reason they are used for washing and calibration plants of fruit and vegetables.
At the same time the chemical characteristics, elasticity and resistance of the polyethylene are used for the creation of tanks, floating systems, buoys and boats under the_fish farming and not only.
Welded plates and laid form the basis for pools and in the same scope, two caps can be welded onto standard pipes and serve as filter housing of the water.
Plastic is used in all sectors, CONTACT US for your special projects, we make welding machines tailored to your product.